Lincoln Short Wave Club is a long-established amateur radio club based in the village of Aisthorpe at the back of RAF Scampton airfield and about one mile from the village of Scampton and seven miles north of the City of Lincoln. The club meets every Wednesday at 7:30pm at the club shack and is also open every Saturday at 10 am for training and operating. There is a regular weekly club net on two metres every Thursday from 8:00 pm.
We are a very active and friendly club with our own training facilities for those that want to get their amateur licence or progress further with amateur radio with our own Training Officer Les G1LQB.
Our self-contained radio shack is at the side of Aisthorpe Village Hall with facilities for HF, VHF and Data Modes and can be used by any licensed paid up member of the club as long as a committee member is also present in the shack.
To become a member of the Lincoln Shortwave Club then please see our How to Join Us page.
History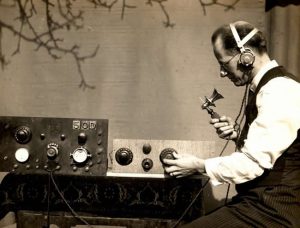 The club was established in February 1921 the club celebrated its 90th in 2011.
Ralph Bates 5OD shown above was one of the founder members of the Lincoln Short Wave Club and is seen with some of his early equipment. It is believed that the picture was taken in 1923. This picture features on our QSL card.
(More to Follow Soon)