Four members and three partners took part in, and enjoyed, the Fox Hunt organised by G4XFC.  Two cars set off from the view point on Tillbridge Lane just after 1300 hours; I was advised to join the 'Fox' (G4XFC) and his xyl at 1400 hours by which time he should have been found; how wrong Ian was.
After a traumatic morning I arrived at Willingham Woods, near Market Rasen just before 1400, I found the fox without any problems (I had been given explicit directions).
Ian was pleased to see me!!
I went to the car park looking for the hunters but no-one in sight.  Eventually Ian gave a BIG clue; I'm in WILLINGHAM WOODS, he said.
Stephen M6TSJ was the nearest and soon arrived at the woods, nowhere near the fox at this stage.  A while later Peter G1FLL arrived at the Woods but before he could start hunting on foot Stephen and Kat emerged from the undergrowth.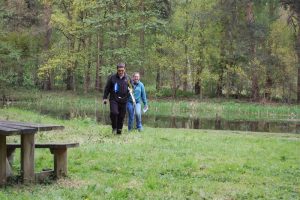 Stephens's antenna certainly measured up to the job!!!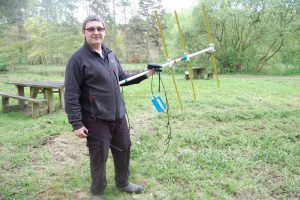 We concluded the day with Fox Casserole, sorry Chicken Casserole prepared by Pam.