Imperial War Museum Duxford
LSWC members and their families had an impressive visit to the Imperial War Museum at Duxford on 29th April.  Everyone seemed to enjoy the visit although it could have done to have been a few hours longer to take everything in.  Thanks to Ian G4XFC for arranging the visit and to George M0XVR for driving the minibus and getting us home safely.
I started my visit at the Armoury Café and Kitchen and had a coffee before heading for the Land Warfare display; I called in at the Historic Duxford building on my way.
My next stop was the American Air Museum
Then I wandered across to the 1940 Operation Room passing the Amateur Radio shack on the way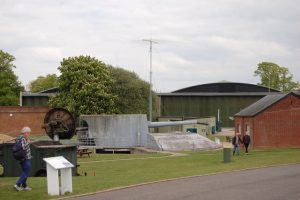 and from there I went to the Conservation in Action Hanger
I then went to see the Battle of Britain display and then the Air and Sea section
The Flying Aircraft display was my next call and then back to the Armoury Café for another cup of coffee.
My final hanger was Air Space; then with just 15 minutes left for the bus I called in the shop; I wasn't impressed with the prices so made my way to the bus.