Lincoln Repeaters are believed to be the only repeaters situated on a medieval building in Europe.
The antennas are sited on top of the central tower of Lincoln Cathedral. This magnificent building, which was started over 900 years ago, dominates the City from its elevated position.The repeaters are GB3LM on 2metres, GB3LS on 70 cms, GB3VL (ATV) on 23 cms and on 10Ghz (ATV) repeater GB3LX.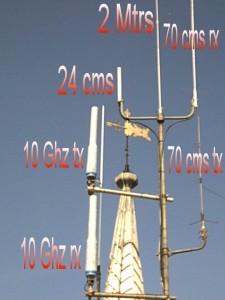 The repeaters have a good coverage area which takes in Lincolnshire and East Nottinghamshire.
The current repeater keepers are Alistair M0TEF for GB3LM & GB3LS and Stephen M5SJM for GB3VL and GB3LX. They took over as repeater keepers in 2021 when Bob G7AVU stood down after may years as keeper. Our thanks must go to Bob for all his hard work that he put into the repeaters over many years that he was keeper.
If you would like to make a donation to help with the cost of the upkeep of these repeaters, it would be gratefully appreciated. The Lincoln Repeater Group maintain their own website Here…