June Visit to East Kirkby
It was a lovely sunny morning on Thursday 15th June when Lincoln Short Wave Club met at East Kirkby for their monthly opening of the Radio Room.
Sadly, club chairman Steve M5ZZZ was unwell and was unable to attend. Club members Ant M0HAZ and his wife Sylvia M0SJB, Steve G7JHU, and David G1WVO were available to talk to those visiting the Radio Room.
David G1WVO completed the repairs to the Vintage Lancaster radio equipment by fitting a revamped headphone, morse key lead and antenna lead. The vintage equipment was switched to standby which allowed it to warm up and stabilize.
David G1WVO and Steve G7JHU, carried out a SWR check on the end fed long wire antenna and were delighted to find that this returned a perfect SWR.
Ant M0HAZ then put the vintage T1154/R1155 through its paces by sending CQ in morse on 40 metres. Sadly the band conditions were very poor and we didn't receive any replies.
One of the highlights of the day was when Ant M0HAZ walked into the radio room with a box of cakes for all of us, this was a present from his wife Sylvia M0SJB and they were much appreciated. Sylvia you can come again thank you.
About midmorning Louise Bush one of EKs management team walked into the Radio Room with her video camera and asked if she could film some 90 second videos on us using the vintage T1154/R1155 for the museum webpage Ant M0HAV and David G1WVO duly obliged.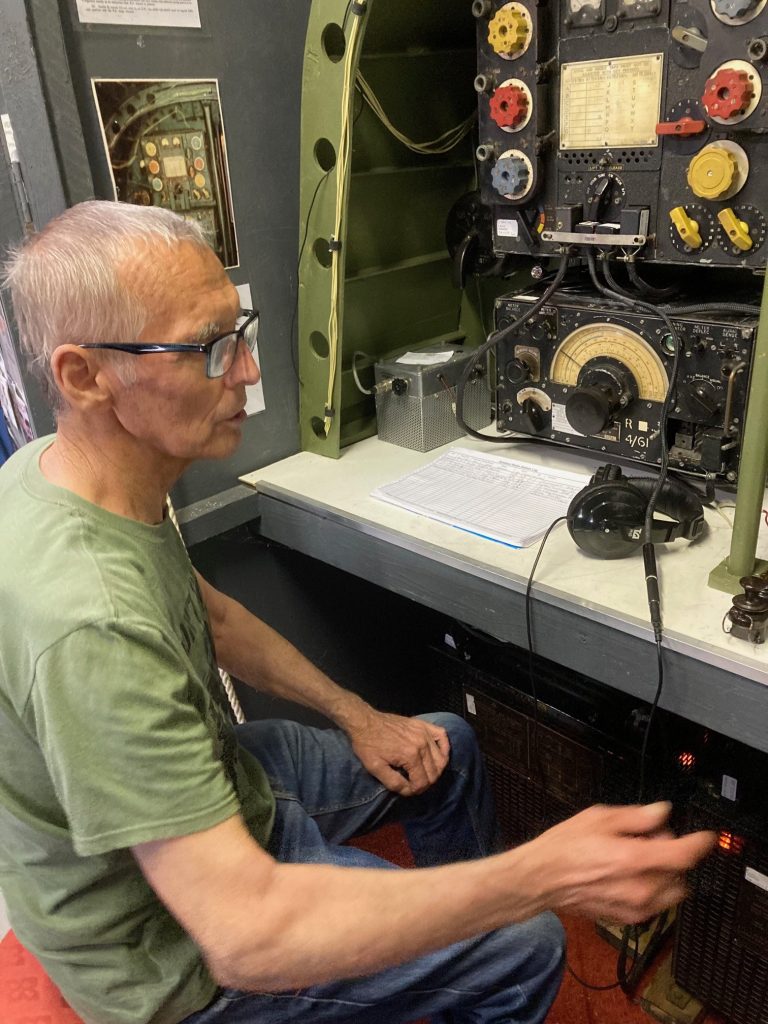 Ant describing the radio and being filmed for Louise's video
Club members are very welcome at East Kirkby please check the club calendar for the days the radio room is open.
Reported drafted by David Willey G1WVO