For the Homebrewer, having a multi voltage power supply can be very handy especially if you are just experimenting. A cheap switched power supply used in computers can give you all the power you need for your experiments, but the problem is that it will not power up when disconnected from the computer.
The solution is easier than you think, due to the fact that there is a standard colour code used by most manufactures of ATX power supplies and you don't need to open the box to get it up and running. Although there is a lot of wires, same colour wires can be connected together and surplus wires can be cut off.
WARNING !!! DO NOT EARTH THE BLACK COMMON OUTPUT WIRE
GREEN:- Power up (This is connected to any BLACK common wire to power up the power supply)
GREY:- Voltage Sense (This is connected to any ORANGE wire, which is the +3.3 volt output )
Some ATX power supplies will power down after a few seconds if no load is detected, it is best to put a 10 Ohm 10 Watt power resistor permanently across the RED  +5v and BLACK common output to resolve this.
Voltages available from this power supply are YELLOW +12V @ 15A, BLUE -12V @.8A, RED +5V @ 30A, White -5v @ .3A, ORANGE 3.3V @ 28A.  The PURPLE wire is a +5v @ 2A standby output and is not necessary so the wire can be cut.
The picture above shows the inside of the power supply and care must be taken as mains voltages are present, also when power is off the capacitors are still charged.
Bottom left of the picture shows the Load Resistor 10 Ohms 10 Watts cement which fitted tightly between the fan and the side of the case, heat sink compound was applied and the resistor fixed in place with hot melt glue.
I have cut off all the surplus wires that I don't require, all wires of the same colour are connected to a common pad on the pcb so you don't have to worry about which ones you cut and which you leave.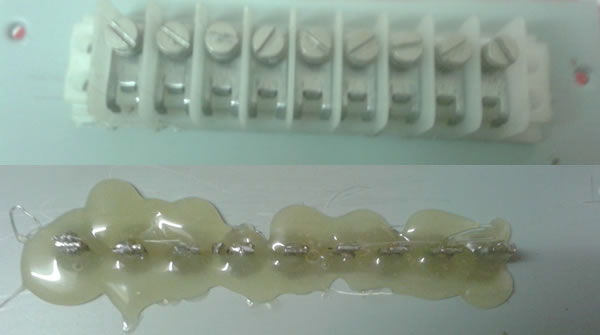 I used an old 90 degree terminal out of my junk box, and drilled the top of the power supply so the solder terminals would fit through the top of the case and used hot melt glue to fix them in place taking care that none of the terminals were touching the case, which would cause a short.
Everything soldered and ready for the case to be closed up.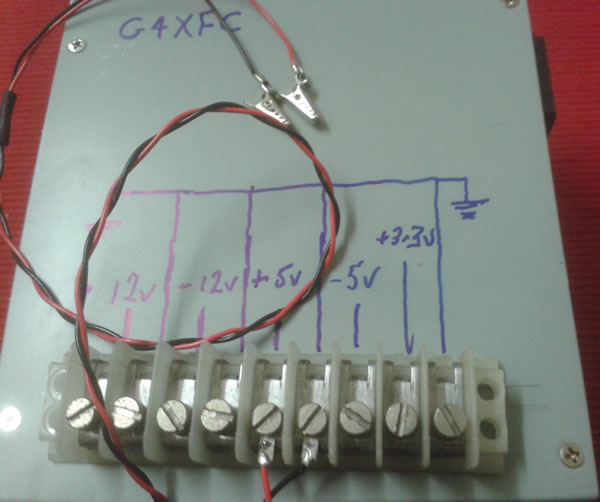 Finished and ready for use, it will not win any construction prizes but is a very useful addition to any homebrewers  shack.
For those who like lights, knobs,  meters and switches, they can be added if you want to place the pcb of the power supply in a bigger case. The main thing is, it was cheap to convert the ATX  Power Unit into something very useable.
For those interested in turning it into a 13.8v supply which will power a 100 Watt rig, this is slightly more complicated and involves cutting a track on the PCB and adding two resistors. An article on how to do this can be found here Converting Computer Power Supplies to stabilized 13.8 V DC 20 A