Lincoln Short Wave club Wins RSGB National Club of the Year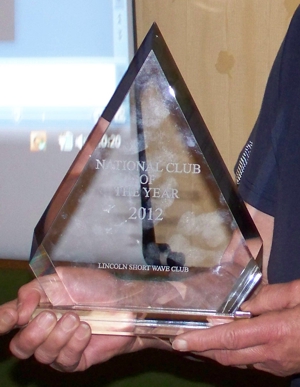 We arrived at the Institution of Engineering and Technology just after 11 a.m. after climbing 193 steps to get out of Covent Garden underground, apparently that is equivalent to 15 storeys, for the 86 Annual General Meeting of the RSGB.
The AGM was over quite quickly and was followed by the presentation of the various awards the RSGB Club of the Year being the last to be presented.   In third place was Warrington ARC Region 3, in second place Newbury and District ARS Region 9 and in first place Lincoln Short Wave Club Region 13.
In the top photo from left to right are Steve Burke (LSWC), Mark Holmes (LSWC), Mark Frances (W&S) Pam Rose (LSWC) and Jeff Stanton (W&S).  Waters and Stanton are the principal sponsors of the competition.