Refurbishing a Linear Amp (Part Three)
Because of finding dangerous faults during this project, this Linear Amp was not a refurbishment but a complete rebuild. I would advise others not to do this work unless they are experienced in what they are doing, as inexperience could result in DEATH as LETHAL VOLTAGES are involved. For reference, this linear is not pretty and is being brought back to life as a working project and will only be used safely in my shack, it will not be entered into any beauty contest.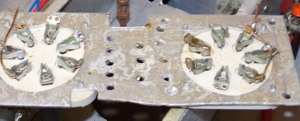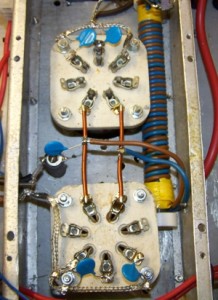 I changed the way the valve bases had been fitted to provided better ventilation by removing the plate that the bases were attached to and using 4mm 2 inch screws refitted them below the chassis using the screws as spacers (it is recommended that you fit the base of the 813 is below the level of the chassis with just the glass envelope above it).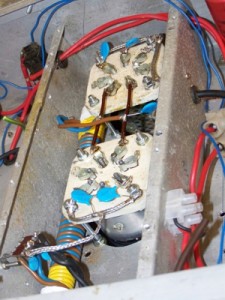 I had to rewire the bases as the grids had been directly wired to earth instead of via a .01uF 1000v capacitor and a 4.7R 1 watt fuse resistor (still to arrive and be fitted) which is a safety precaution as you can't be too safe with linear amplifiers. Right of the valve bases is a new homebrew filament choke.
Things are plodding along nicely as the bleeder resistors for the capacitor bank arrived and were fitted and a mock up of the power supply using another HT transformer I have was assembled and fired up via the Variac transformer so I can start to re-form the capacitors.
There was no big bang and I am now slowly increasing the voltage across the capacitors till I eventually reach the top voltage with this HT transformer which is 2.5KV and it should then be OK for the HT transformer on the linear amp where the voltage across the capacitor bank will be 3KV. (I just hope there is no big bang or the cat gets electrocuted.)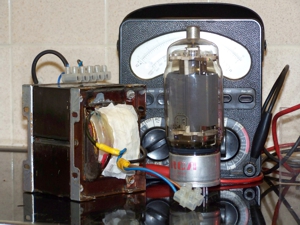 The fitting of the hombrew filament transformer shown on the left with the RCA 813 Valve is being delayed as I rewire the linear, as it is heavy enough turning it over with just the HT transformer fitted, I have replaced the filament choke and decoupling capacitors and wired it up and all it needs is wired to the transformer when it is fitted. The principle jobs at the minute are rewiring the mains input circuit and fitting a soft start to the HT transformer, removing unwanted components and making a hole in the front panel for the HT voltage meter so things are just plodding along.