What will take over in 'Matters Arising' at our monthly committee meetings and AGMs?  We have been going to insulate the roof space in the shack for about 8 years and on 11th May 2017 Bob G7AVU and me G4STO went and ordered the materials; the boards were delivered on the 18th and Bob managed to get the 3M lengths of wood in his car (they delivered the insulation free but wanted almost £40 to deliver the wood).
The east side of the roof space had been cleared by Bob and Steve M5ZZZ a few weeks ago, so it was an almost straight forward job for Bob, Jason G7KPM, Les G1LQB and Peter 2E0FGA to get started on the work on Saturday morning 20th May; I arrived after most helpers had gone but did help until Bob decided to tear my finger with a protruding screw.  The east side is now competed and it is hoped to clear the west side next week so insulation can begin when help is available.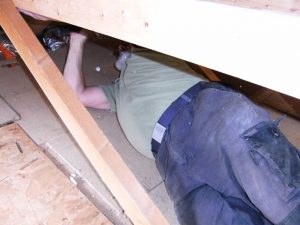 Not the easiest of places to work.