Relaxing in the shack before work commenced.
For the amount of people that turned up to help at the shack this morning (26th July) there was a lot of varying activities; washing down the shack, work again on the SteppIR, repairs to the white board and Les found a use for some of the grease in the drum at the end of the shack and greased the trailer mast.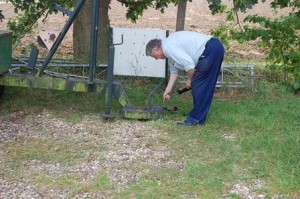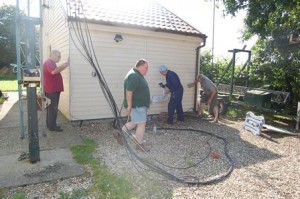 After the ends of the shack had been washed down Peter M0EJL and James G0EUN started painting whilst Steve M5ZZZ, Gerry G6KGG, Bob G7AVU and Pam G4STO concentrated on getting the north side washed down but had to be careful as Bob didn't mind where he was throwing water! Oh yes the Village Hall had another load of gravel to level which Les G1LQB helped Steve with and then Village Hall Steve cut the grass.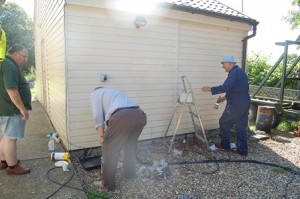 Roger G3PVU, Bob G3VRD and Stan 2E0SJP worked on the SteppIR. I think Rob M6FTJ sorted something in the loft for G7AVU but he couldn't stay long and Ken G3NIC asked for a job but we were all too busy to sort something out for him. Pictured at below at the end of the shack. G7AVU on the ladder washing the wall down.
I don't think I've missed anyone from the helpers. Also you will see from the photos I didn't manage to get everyone while they were working, just while they were resting. Sorry Gerry and Steve.
Refreshments were prepared for the workers by G4STO.