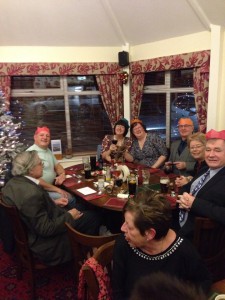 Lincoln Short Wave Club's Christmas Dinner was held at the Fox & Hounds, Willingham by Stow. It was a jovial event attended by club members and families.
I took pictures of the event with my Smart Phone and realised when I got home that although I am good at Morse, I am useless at photography. I apologise to everyone that smiled at me, as their smile was in vain as all pictures were useless and could not be used.
The meal was very good, compared to last year where the garlic mushrooms were that hard that they kept flying of the plate when you tried to put a fork in them.
The raffle was very enjoyable with lots of members who had the winning tickets, asking for it to be drawn again. The lucky winner of the low quality screwdriver set, the last prize left in the raffle was Bob G3VRD.
A very good night was had by all the members and guests. Sorry Dave for pinching your photograph, it was the only decent one I could find.  :0(