FIR PARK WINGS AND WHEELS
What a busy Five months we've had; April a visit to the Imperial War Museum at Duxford,
May the Fox Hunt and the Dambusters Special Event Station,
Fir Park Free Show in June,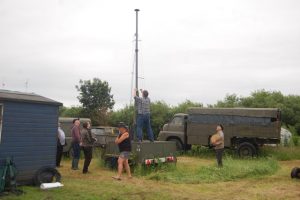 Boultham Park Summer Fare beginning of July,
Poacher end of July beginning of August
and Fir Park Wings and Wheels August Bank Holiday weekend
and we are going to have another two busy months with the National Hamfest at the end of September and then there's JOTA at the end of October.  We have also run three Foundation courses, had a couple of Sausage and Burger events, several talks and our surplus equipment sale.
For August Bank Holiday weekend, Les G1LQB collected the equipment on Wednesday and went over to Fir Park on Friday and started setting up; he had taken his caravan so he could get early starts.  Stephen M6TSJ arrived early on Saturday morning with his tent and helped Les with setting up the station.  Other licenced helpers/visitors to the station were Pete G8THR, Peter M3PCC, James G0EUN, Barry G4DBS (RAF Waddington ARC), Jim G0EJQ RSGB Region 13 Regional Manager, Tom G4OSB, Ian G4XFC, Ian M0RPD, Roger G3PVU, Stuart G3YPS, Steve M5ZZZ and Jason G7KPM; I didn't get there until Monday so if I've missed anyone sorry.