Arthur Atkinson's visit to East Kirkby
In July one of the Lincoln Short Wave Club Members, David Willey G1WVO heard on the preverbal grape vine that an elderly gentleman called Arthur Atkinson had an item on his bucket list that we could hopefully help him achieve. Arthur a gentleman of 97 years young was a Wireless Operator in WW2; he flew in Lancaster bombers of 61 Sqn. based at RAF Skellingthorpe nr Lincoln where he flew 34 sorties a normal tour being 30. His wish was to again operate a Marconi T1154/R1155.
The LSWC establish the Radio Museum at the Lincolnshire Aviation Heritage Centre in 2005 at RAF East Kirkby an old WW2 bomber airfield in Lincolnshire. Part of the Museum is an Amateur Radio shack with the call GB2CWP in the shack is a working T1154/R1155. Two of our members Fred G4HNQ and Brian G4HIV went up to East Kirkby to ensure that all was ready for Arthur's visit on Thursday 8th August. Arthur was duly invited along to the Aviation Centre with Mike Connock Chairman of Friends of RAF Skellingthorpe. On Thursday's the Lancaster Bomber named Just Jane does taxi runs along the old runway; we stood with Arthur and watched the old aeroplane. When Just Jane struck up its engines Arthur's eyes lit up, I am sure this evoked many old memories both good and bad.
We then had a group photograph taken in front of Just Jane.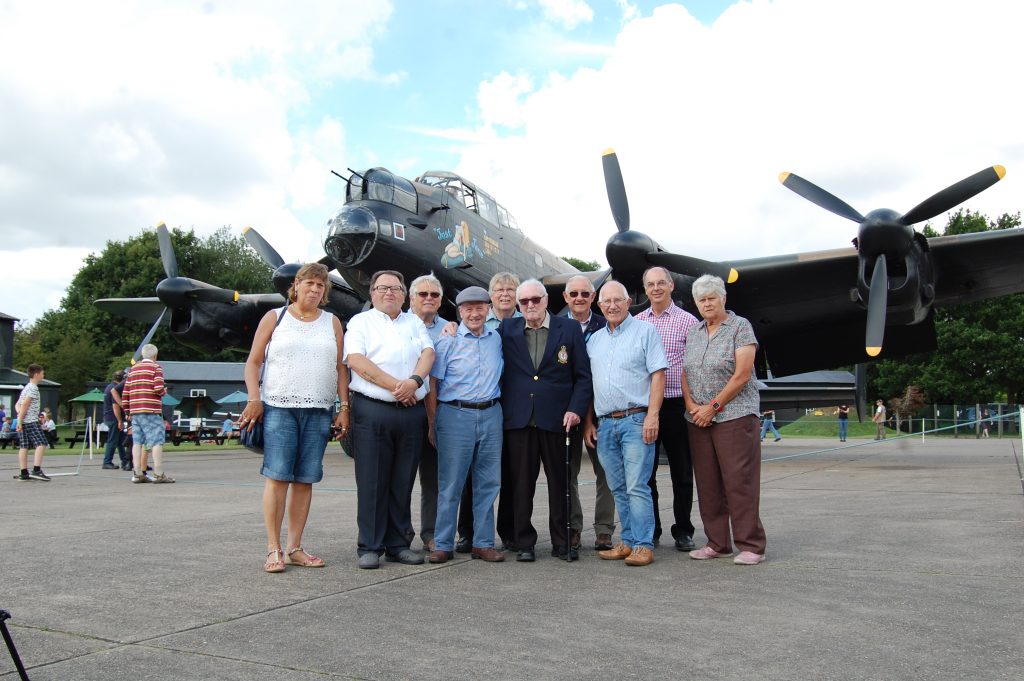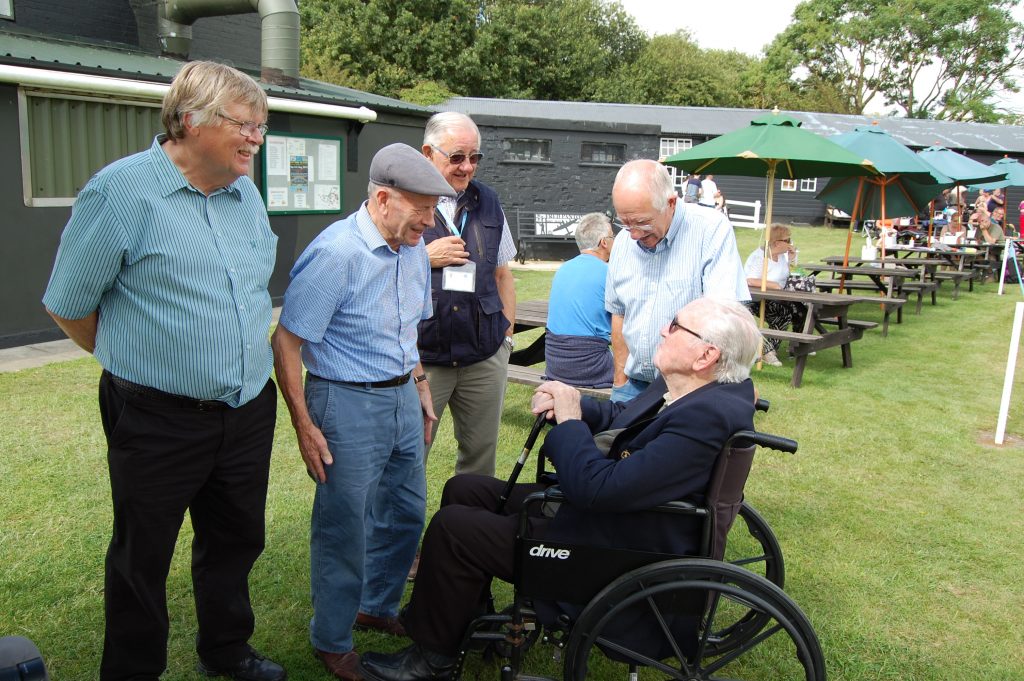 We accompanied Arthur to the radio shack, he sat in front of the R1155 tuning around the 40m band and heard a French station we were amazed when he decoded the CW being sent, not bad seeing that it was over 70 years since he had learnt Morse Code. He could not reply to the call as he is not licensed but we put a dummy load on the T1154 and he remembered the procedure for operating the transmitter merrily tapping away on the key. One of our more senior Members Peter Kendall M0EJL had also been in the RAF and trained on1154/1155 in the 50's chatted away remembering some of their exploits, Arthur in WW2 and Peter in Aden and Borneo.

Arthur with Peter M0EJL with Mike Connock looking on.

Arthur and Peter chatting away remembering some of their exploits
Arthur was then asked if he would like to have a look around the inside of Just Jane, Mike thought it would be difficult for Arthur to get on board but it was just the opposite we had a job getting Arthur off the aircraft.
I think we made an old gentleman very happy that day and Arthur went away with a glint in his eye. I know I will never forget the experience of meeting Arthur a real hero of Bomber Command.
Stephen Burke G6TVP/M5ZZZ
Chairman of the Lincoln Short Wave Club
8th August 2019