Boultham Park Summer Fair 2018
This weekend was the Boultham Park Summer Fair and the LSWC was there as usual with a demonstration station.
G5FZ/P
out portable… again? Yes it is.
With equipment being collected during the week, Les G1LQB, Steve M5ZZZ, Ian G4EVK, Barry G4DBS, Tom G4OSB, Fred G4HNQ, Peter 2E0FGA, Roger G3PVU & Jackie were on site early Saturday morning. Soon Stephen 2E0SSM arrived to help during the day closely followed by Peter, M0EJL and Pam, G4STO with the tables and radios. All then helped in getting the station set up before the Public arrived.
Once everything was set up Pam got the bacon out and made us all some bacon butties for breakfast. Pam was also well prepared at dinner time with a large supply hotdogs which she kindly cooked for us all. A big thankyou to Pam for the effort she puts in keeping us all well-fed in addition to the many other things she does.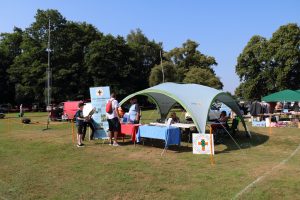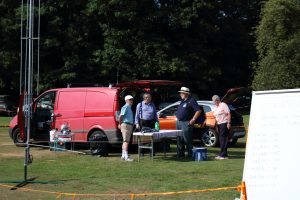 With the station up and running it didn't take long before it was agreed that the new antenna, the Gap Eagle in the images above, was a worth while purchase as we were soon making good distance contacts on HF. A good contact to Bolsover on 2m was also made using Les's small collinear.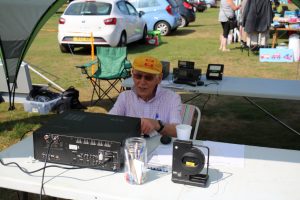 With temperatures rising any piece of shade was a needed place to be with the rear door of Les's van providing just that.
We were also joined by two SWL's, Lyon and Liz, who are currently studying for the Foundation course. Les, the clubs trainer, took an opportunity during a quite period to start some of the practical's required for the foundation exam. With the help of Stephen, 2E0SSM, who was out wandering round all the stalls with a handheld, their first supervised 2m QSO was made and signed off.
At about 3pm the show was treated to a flypast by one of the BBMF's Hurricanes.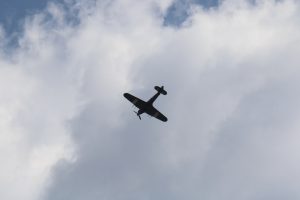 By 4pm it was time to get packed up and squeeze things back into the van.
Fir Park Wings and Wheels
Reminder to all, LSWC will be out again for the August Bank Holiday 3 Day, 25th – 27th, Fir Park Wings and Wheels event. In the mean time remember the club meets every Wednesday evening and Saturday mornings.
So until next time….