GB5FPS Fir Park June 2018
GB5FPS at Fir Park.
LSWC put on a special event station, GB5FPS, at Fir Park during the weekend of 9th/10th June.
The setup of two Fan Dipole antennas and Verticals allowed use of a wide range of bands from 160m through to 70cm's. Numerous contacts were made over the two days both on HF, SSB and CW and on VHF/UHF FM. A number of satellite contacts were also made using 2m's (Downlink) and 70cm's (Uplink) simultaneously. A pleasant surprise came from a visit from someone on the Sunday who we had made contact with via Satellite on the Saturday.
In addition to radio activity we were treated to model aircraft displays and then the 'real' thing when light aircraft landed; took off and then performed a few acrobatic movements.
Helpers and visitors over the weekend were Stephen 2E0SSM, Les G1LQB arriving on Friday to start setting up; they were joined Saturday morning by Pam G4STO, Barry G4DBS, Tom G4OSB, Fred G4HNQ, Neal G8ZHL, Steve M5ZZZ, Jim G0EJQ and Stewart G3YPS.  On Sunday Roger G3PVU and Jackie called in to lend a hand.
Here are some images taken during the weekend.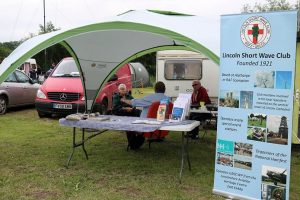 The Club will be at Fir Park again on the 25th – 27th August for their Wings and Wheels Event. Add it to your diaries as it's usually a good long weekend.