GB70DAM Special Memorial Station.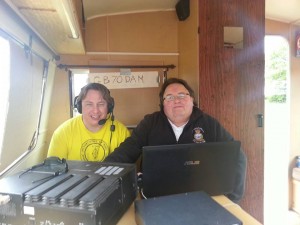 As most of you are aware 16-17th May 2013 was the 70th Anniversary of the Dambusters raid. Steve M5ZZZand the dedicated few usually run GB5DAM but this year we felt we needed a more significant callsign and after much wrangling Steve received the NOV for GB70DAM.
The station was set up and ready to roll by 11am with Bob G7AVU kindly making a 23cm stream possible so people all round the world could watch live via the GB3VL stream on the BATC website. At the peak on the GB3VL stream we had 2000 viewers!!
The first contact from RAF Scampton to the Eider Dam since that fateful evening 70 years ago was achieved early afternoon with a prearranged sked with DL/G4EVK who was on a Dams bus trip and was operating with 5 watts /p.
Ian G4XFC kicked off with CW 14.00 on 40m working a steady stream of contacts which gave the other 3 guys time to get the stream corrected and some badly needed nosebag!
Just after 15.00 it was time to unleash the whirlwind to the SSB portion on 40m and what a whirlwind it was!! Steve was first up to operate and this was our first of only 3 CQ calls we had to make in 14 hours!! As soon as Steve called the pile-up was instantaneous !! Within 30 mins of starting we had to result to working by numbers as the calls were becoming indistinguishable !! Steve carried the torch until about 17.30 then I got the call to take over. I had been sat in my car using various media to promote event so I had been out of the caravan for and hour or so and when I called for 0's the responding mush was unbelievable no single callsign could be heard it was a case of pick a couple of letters!!I carried on running until Mark arrived to do a stint  and by now the pile-up was the biggest I've ever heard. We left Mark to it and I took Steve and myself into Lincoln for some Tea ! Promptly getting stuck in a traffic melee in Scampton village for best part of an hour.
Arriving back at site the pile-up was bigger than ever and conditions were changing on 40m working Vk7AC Norm in Tasmania who was a lovely signal in the clear 5/9+ and shortly afterwards VO1SA who came across the top of all others calling another nice signal! Also working our ex-pat ex-chairman Terry Cooling EA3EWO nice to hear from you mate !!
Around this time murphy entered the shack and we started encountering RF in the headset so it was decided with the propagation lengthening and the RF we would stop for 5 minutes during band change to 80m and try to fault find.
On 80m we only operated a short while as the RF problems were still present and Steve and myself were cream crackered we both had some throat/lung virus result..no voice/breath so we packed up for the night I went home Bob,Steve and Jason remaining on site. I ended up at doctors at 7am being told to go home and rest I said I couldn't explaining why ,my doctor replied 'you're crazy' lmao!!
Steve started the Friday calling again the pile-up had thinned thankfully but still a brisk trade was had. Bob packed up 23cm gear and went home for a shower promptly passing out for 5 hours bless him !
I arrived back on site about 10am all medicated up from docs and carried on running with Steve 15.00 when we had to stop due to NOV running out! We broke station down and arrived at our home qth's around 18.00 tired and still with the voices of people calling you buzzing round our heads!
All in all a very successful event working just over 800 contacts in 14 hours with some nice contacts made.
Special thanks to Wing Commander Turner (RAF Scampton), Steve M5ZZZ for his tireless devotion in realising this special call, Bob who was in 23cm /portable heaven for his on site streaming, Les for his towing of the tower , and also to the guys at BATC who put a hyperlink on their front-page to save the new visitors navigating the site and also live editing which we only became aware of with Bob and I's discussions this week with Noel at BATC !!! Thanks guys !!
Best 73
Sy M0SIY