On the 6th & 7th July the Club was again up at the old Bomb Dump at RAF Scampton for VHF Field Day 2119.
This contest ran from 3pm BST on the Saturday to 3pm on the Sunday. 2m & 70cm ran for the whole time while 4m was only on the Sunday.
On the friday night Les, G1LQB and Steve M5ZZZ/G6TVP collected the equipment from the shack and took it to the site. Les then camped over.
Saturday
Saturday morning Steve returned and was joined by Andy, 2E0OYQ, Stuart, M7RSF & Stephen M5SJM to help set up the station.
We were soon joined by Lyon, M6OYU & Roger G3PVU who assembled the 4m Beam.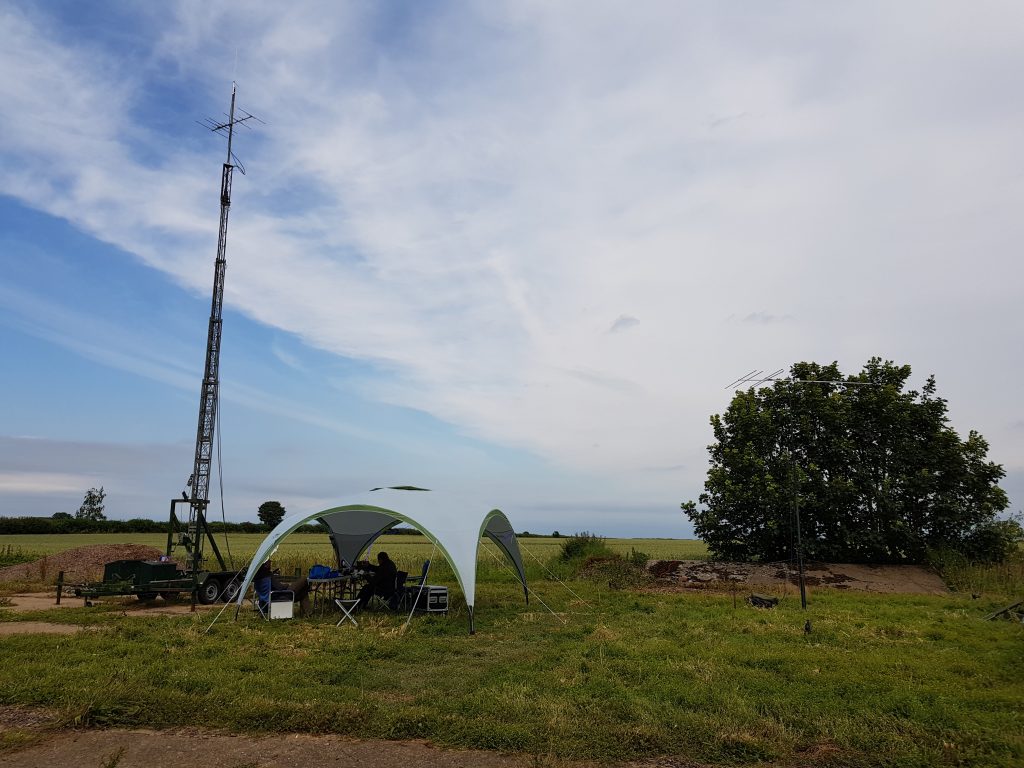 The station was now set up and ready for the VHF Field Day to begin.
At 3pm precisely Steve began calling CQ and soon had the first entry in the log. After a while Stephen took over for a stint into the night with Andy also sitting in a number of times throughout the evening.
During this time we were joined by Dave, G6EWP and Mary, G6SWZ who kept the team company through the evening.
By 12pm the radio had gone quiet and the team needed some sleep. Camping over was Les, Stephen and Stuart.
All's quite for the night

The Closing log for the evening
Sunday
Sunday morning and we were again joined by Andy. After a bacon butty provided by Les Stephen was back on the radio adding to the contact list. As 9am approached the 4m beam was tested and appeared to working correctly so as the clock struck 9am Stephen moved over to calling on 4m, getting a number of contacts within a few minutes.
Later on Steve arrived back and took over operating 4m and Stephen moved back to 2m / 70cm. Again Andy got stuck in also taking a stint on the microphone.
By the end of the weekend we had amassed over 110 contacts overall which for our small station was rather good. But the main thing was that all who attended enjoyed themselves.
Below you can see our QSO maps for the event and our current claimed scores are available on the RSGB Website. The Final results are to be announced at a later date.
70cm QSO Map

2m QSO Map

4m QSO Map

The Club is already signed up for the SSB Field Day so you can come and join us again then. Other events will be planned throughout the remainder of the year also.